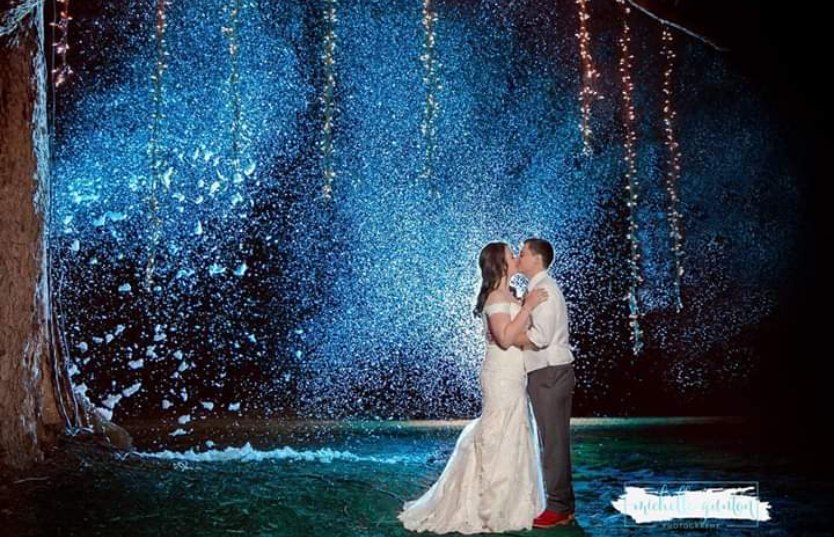 He has finally proposed and now you have to get to the phone to call Mom and other family members. You've waited for this day and now that it's arrived, what do you do next?
First, of course, you have to set a date. Once you have the date set, you will need a location for the ceremony and then the reception. Next you will need to decide on your entertainment, since it can make or break the whole event. Will you need a harpist, string quartet, or will a DJ provide the music for your ceremony as well as your reception.
Lenny Fritts' Touch of Class DJ's will and can provide music for both. We will also help you find and choose the music for the wedding ceremony and then the music for your wedding reception. We've performed at thousands of weddings, making each one special and unique for each couple.
With our Ceremony / Reception Planner which is online, we will help you plan and coordinate the whole day. The only thing that we want you to worry about is walking down the isle, since we will handle the rest for you. Also check out our  Music list. 
Contact Us today to see if we are available for your wedding reception. 
The ceremony typically consists of 4 -5 songs. We can play Pre-ceremony music while the guests are arriving and being seated. Then comes the music for the seating of the grandparents, mother of the groom, then the mother of the bride. Once she is seated the officiant and the groom will make their entrance with the best man. The next song would be for the bridesmaids and the groomsmen, leading up to the maid (matron )of honor.
Following them should be the ring bearer and then the flower girl(s). Now it's time for your grand entrance. Everyone stands as you are presented to the congregation. You and your escort(s)make your way down the isle. Vows are communicated and then you and your new spouse will be presented to the gathering. As one more beautiful song plays, you and husband(wife) begin to leave.
The reception generally starts once the ceremony is concluded, with the first thing on the agenda being the cocktail hour. Your guests will drink and snack on a few items while you finish taking pictures. Depending on what you ask the photographer to shoot it generally takes about 30 -50 minutes. Once you have arrived at the reception location we will line you up and do the formal introductions of the bridal party. From here on out is where things can change depending on what the Bride and Groom would like to happen.
Do you need to worry about each phase of the reception? Not with Lenny Fritts Touch of Class DJ team.
We will set everything up and execute it so all you have to do is eat, dance and enjoy your guests and your event. We want you to feel like a guest at your our reception.
We will work with the banquet location, photographer and the videographer to help coordinate all of the scheduled events through out the evening

We will be dressed in full tuxedo, prepared with the music list of your choice

We will have a wireless microphone for any and all announcements

We arrive well ahead of your guests and are ready to go when they arrive

We don't take band breaks

We help you put together a detailed plan and we follow it

We work hard to make your event flow smoothly

We entertain your guests and make everyone feel included and involved

We do not smoke or drink alcohol during any event
Rehearsal $150
Down the Aisle - $250
Divine Package
Elegance Package
Rehearsal $150
Up to 1 hour of coordination / Training
Show you the different types of entrances: single file or Bridesmaid / Groomsmen
Show everyone how to walk in and exit for the ceremony
Grand Parents/ Mother's Entrance
Entrance for Sand or Candle Lighting ceremony
Let the Ushers/ Groomsmen know whom they are seating and where to seat them
Let everyone know where they are to stand
Exchanging Vows
Ring Ceremony dropping of, Who has the rings: Bestman/ Maid of Honor/ Ring bearer
Pronouncing of the newly married couple pick up flowers and fluff dress
Exit of new Couple
Bridal Party Exit
Parents / Grand Parents Exit
Guest Instructions from the Officiant
Pictures and Cocktails
You can add the rehearsal Dinner to this package up to 4 hours for $600
Down the Aisle - $250
Wireless lapel microphone for your wedding Officiant / or Groom
Music for your prelude, processional, and recessional 1 hour total
Additional microphones available for readings or vocalists $50 each
Package Price $ 250
Divine Package
Up to 4 hours of Professional Entertainment / MC / DJ Service
Unlimited Hrs. Consultation and Planning
Wireless microphone
Travel up to 1 hour outside of Raleigh for free
Professional, attractive, and clean sound system
Lighting effects
Master of Ceremony services
Event coordination
On-site Coordination with venue staff and your other vendors
Extensive Song library is online to choose from. Call or email for songs not listed
Over 35 years of combined Wedding experience
Master of Wedding Etiquette
Personalized Event Planning Consultations
Insured for $2,000,000 General Liability & Business License
We don't drink or smoke at your wedding
Extra hours at $75 per half an hour
Elegance Package
Rehearsal + Rehearsal Dinner + Ceremony + Reception
This is our all inclusive and most valuable package! It includes Grace, The Rehearsal Dinner, Divine and Down the Aisle
We help plan your ceremony as well as your reception
We will coordinate your dream wedding with the other vendors involved
We place extra care into Making Your Dream a Reality
We come to your rehearsal to meet the Officiant and your close family members and friends to get to know them prior to your event (typical cost is an extra $150 with any other package). Up to 1 hour for the rehearsal
We also provide music for the rehearsal dinner that evening for up to 4 hours
1 hour for the ceremony music and microphone
4 hours for the reception entertainment, extra hours can be added at $150 per hour
Between us we have over 30 years experience as DJs and we are honored to be considered Raleigh premier DJ company. You may have questions and I (Lenny) would personally like to answer them. Here's where you can contact us. I look forward to providing you the Raleigh DJ who will make sure you have the most memorable, carefree event possible.
Your Wedding should be a moving experience. Soon to not be forgotten. Let us help you make those memories.